Cytology

UPHS – Marquette (UPHSM) is pleased to announce that the Cytology laboratory has greatly expanded its Pap smear processing capacity for conventional Pap smears and Thin Prep® Pap Tests.
We are now prepared to accept additional Pap Smear cases from across the country. We have the ability to do so while continuing to provide rapid turn-around-time and highly competitive prices.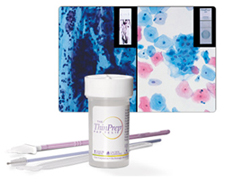 UPHSM offers clients a variety of Cytology Service options, including the ability to request "prep-only" services for Thin Prep® Pap Tests, cytotech "technical" coverage (i.e. abnormal paps & QC referred to your pathologist), full-service Pap screening, and in-house reflex HPV typing. Additionally, we are happy to provide clients with cytology coverage on a temporary basis.
UPHSM has a fully accredited, full-service clinical laboratory. Our ASCP certified staff of cytotechnologists and pathologists ensure that we provide the highest quality cytology services. Enhanced QC procedures, our Internet-based Test Orders - MOL, and monthly pap summary / statistical breakdown reports are a few of qualities that make UPHSM the reference laboratory of choice.
Craig Buyarski
Anatomic Pathology Manager
UPHS – Marquette
Phone: (906)449-3454
Fax: (906)449-1964
craig.buyarski@mghs.org